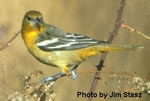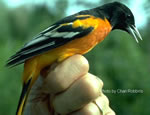 Male Baltimore Oriole can be told from other black and orange orioles by its completely black head. Female is similar to other female orioles but can be told from Bullock's by its more orange breast and less gray upperparts. Hooded and Orchard orioles have more extensively yellow underparts.

Clutch: 3 - 6
Number of broods: 1
Length of Incubation: 12-14 days
Insects
Fruit
Nectar

Song a series of clear whistles, the first down-slurred and ending in a slow trill. "Cheer, cheer, cheer, what, what, what, what." Call a sharp "chip."

Length and wingspan from: Robbins, C.S., Bruun, B., Zim, H.S., (1966). Birds of North America. New York: Western Publishing Company, Inc.
Gregory Gough
USGS Patuxent Wildlife Research Center
Clutch size, length of incubation, days to fledge and number of broods from: Ehrlich, P., Dobkin, D., and Wheye, D. (1988). The Birders Handbook: A Field Guide to the Natural History of North American Birds. New York: Simon and Schuster Inc.