Basic wren bird house. Each house is individually hand decoreated on top of your base color choice.
Dimensions: 5 3/4" x 6" x 7 3/4" Weight 1.2 lbs.
House can be ordered with either screw eyes for easy hanging, or post mounting option:
Screw eye option includes 2 screw eyes installed in the roof of the house which allows you to hang in a tree or under the eave of a house.
Post mount option includes a 6" extension from the back which will allow mounting of the house on a fence post or flat mount against a structure.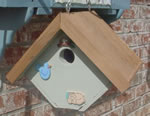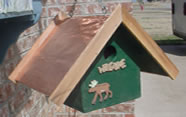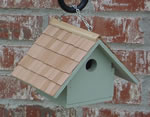 Also available with cedar, copper or shingled roof
Price $9.95 Add $5.00 for cedar, copper or shingled roof.